---
"After the eminent success of our previous infographic, ' The 10 Commandments of Typography ', DesignMantic now brings to you its sequel created upon popular demand! Enter, 'The 10 Commandments of Color Theory'…
This infographic holistically sums up the 10 cardinal rules of color scheming to help you save time when choosing colors. A lot of people find themselves at a dead end in their attempts of defining color schemes and combinations. The infographic below, hence, dishes out for you the 10 essential points that serve as a bedrock to the colossal color-verse!
It talks about the psychological impact different colors inflict upon us and lays down the several technical elements of the color wheel. It provides to you an understanding of the different features of a color spectrum like the different hues, tints, shades and tones."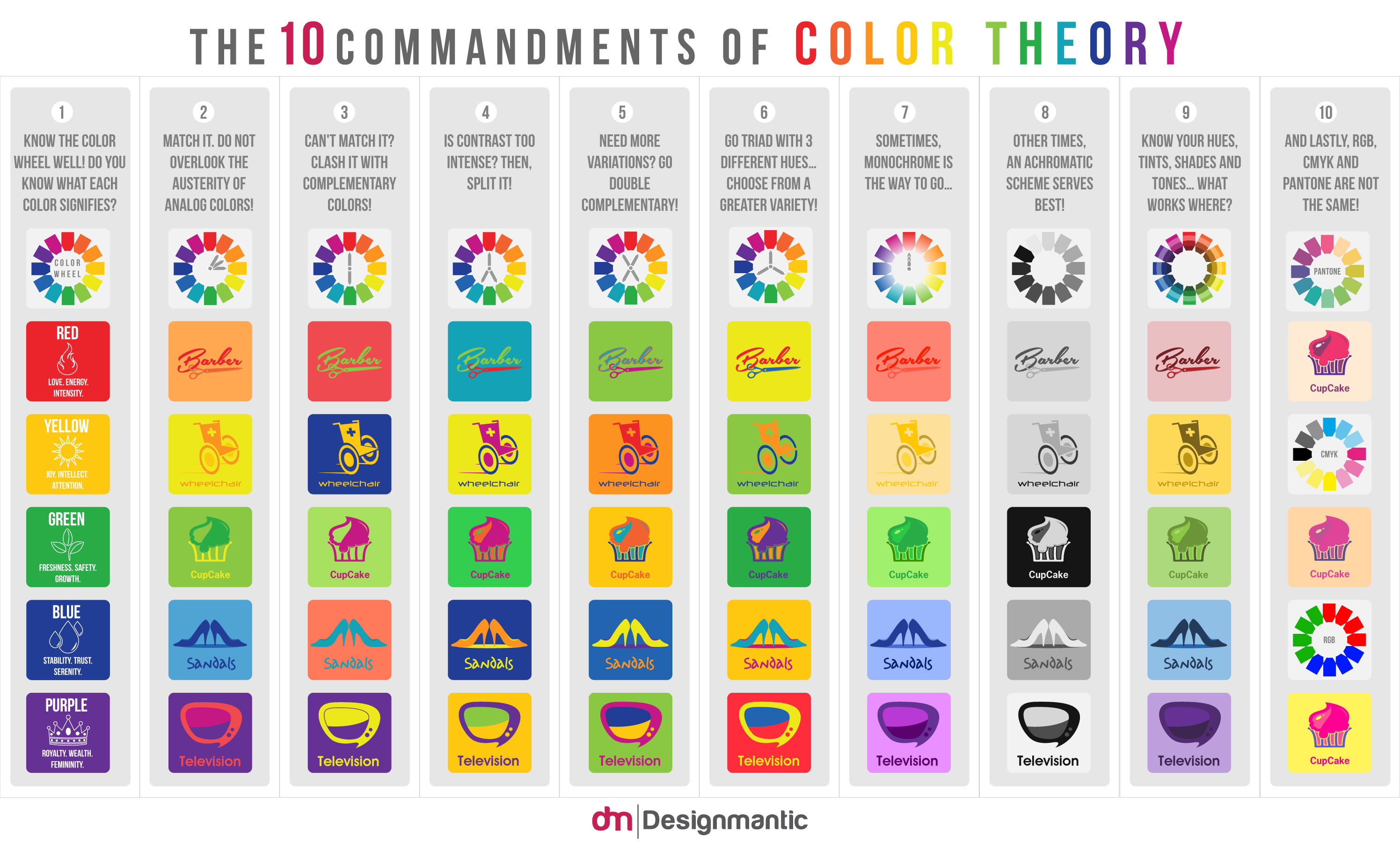 Courtesy of: Designmantic.com
### Color, colour everywhere – important stuff.
"Like most devs, I spend a lot of time manually testing the user experience on the site I work on. Unit and integration tests are great, but there's no easier way to find a pain-point on your site than to do it a thousand times.
With forms, this can get tedious, fast.
That's the situation I found myself in a couple of months ago when we were adding the British Pound to our checkout currencies in Wufoo. I had multiple fields to fill out with names, emails, addresses, credit cards. You name it. And of course, a lot of the data had to be unique."
Another great reason for using a javascript bookmarklet. KISS.
---
"From a motion design perspective, Facebook.com is phenomenally static. It's purposefully dumbed down for the broadest levels of compatibility and user comfort. Facebook's iOS apps, on the other hand, are fluid. They prioritize the design of motion; they feel like living, breathing apps.
This article serves to demonstrate that this dichotomy does not need to exist; websites can benefit from the same level of interactive and performant motion design found on mobile apps."
You can look up Velocity.js on GitHub.
---
"In iOS 8, Apple is making the process of logging into apps a much smoother experience by allowing native iOS apps to access usernames and passwords stored in Safari. The new feature, which works by letting iOS apps tap into Safari's AutoFill & Passwords feature, will allow users to login to apps with a simple tap rather than having to type login info. Imagine your username and password are stored in Safari's AutoFill for Facebook, for example. When launching the native Facebook iOS app, the feature will let users select from passwords stored in Safari to quickly login."
You can also easily switch from working on an iOS device to your Mac and vice versa. Pretty neat.
---
"We are back with our second month in a row, where all the new entries to the WordPress theme stage are being designed responsive. As you may have already heard, Google is going to penalize sites that are not optimized for mobile rather sooner than later. Now is the right time to not build your brand-new project on a non-responsive theme. Don't say we haven't warned you, if you do anyway. For another month we went out into the wild to search for the newest and coolest WordPress themes available. In the following article, we introduce you to our findings.
All these themes are free, though some have commercial variants available. We stated that where applicable. Enjoy!"
Themes mentioned
Microphone – for music sites
Fad – minimal grid starter theme
Semicolon – Magazine
Delivery Lite – Tech sites
Tdpersona – personal blog
Weblizar – professional
Matheson – professional
Luxurycars – automotive
Touringg – travel – touring
Themify – base theme
Pinshop – e-commerce
Fullscreen – gallery
Photomaker – simple
Bizmo – e-commerce
Childrencinema
Agency – galleries, portfolios
Shopo – e-commerce
Techpick – technology blogs
Big Impresa – sep friendly
Nile – business
---
"If you self-host WordPress, it's advisable to implement some kind of caching solution. Whether you want to run your blog in an economical micro instance at Amazon's Cloud (AWS) or expect your blog to get significant scale or traffic spikes, caching will be critical to manage performance. Caching can also help improve your Google Page Speed which impacts your search engine ranking.
Depending on your site traffic and the complexity of your WordPress theme, performance can actually be quite slow on AWS. My recommendation is to combine use of the open source Varnish Cache with the free W3 Total Cache (W3TC) plugin."
Cacheing can help a website's speed. Problem is, like security plugins, sometimes the cure is worse than the disease.
---
"This presentation explains three important technologies that you can use to make WordPress fast. It covers how to configure these technologies to work together by actually setting them up on a virtual private server. Likewise, it discusses some of the implications of using these technologies (memcache especially) and when you might want to choose a different technology for making your WordPress websites run fast."
On the same theme as the above, video format.
---
8. A brief intro to AngularJS, followed by a tutorial on building a single page app with it (and using WordPress to power the backend).
Ditto
---
"If you are just learning how to code, or are a seasoned developer, there are some important habits that will serve you well during your WordPress development career. Beyond the high-level approach of Stephen Covey's '7 Habits of Highly Effective People', this presentation walks you through 7 practical things you can do to become a better and more effective WordPress developer. The concepts presented are accompanied with action steps and follow up resources so you can start becoming a better developer right away.
I sense a bit of Norman Vincent Peale in the building.
---
"Leveraging resources available in external APIs is a hot topic in today's web world, however how to leverage those resources from WordPress is not well known. This presentation walks you through the API functionality built-into WordPress and shows you how to retrieve information from an existing popular API.
Interesting. There are so many things that WP natively supports that you don't often have to look 'outside the box'.
---